Monday, November 24, 2008
oh yar almost 4got..
'Would you like to have a dooo rin'?
She left her message at
8:04 AM
okok some updates...first off...training...training is great so far..still okay..and my resirvoir timing is improving everytime i run!!!..yeahh..happyyyyyy..hohoohoh...can improve somemore de...and i wanan get the seat fastttt...must pass the test..okayy tats abt all..and the ppl there is also great..funnny ppl.......

k lets fast foward until ytd!..sundayy..hahahah..spend the wholeeee sunday afternoon at the central..clark quak there...for christmas tree competition..lol!..yeahh christmas treee....its the first ever christmas tree i've ever decorated...and im dman proud of it..hohoohh!..The cLICK!..designer: jing yi, qing ling, kok yong, choon teck..hhoohoho..pls supportt..ahahahah..
She left her message at
7:22 AM
Sunday, November 16, 2008
haiyooo..i was scrolling thru my msn list and like wa...a lot ppl sick sia recently...goodnesssss...issit the weather..like suddenly rain or the school load...but in any case take careeeeeeeeeeeeeeeee.....
She left her message at
3:10 AM
Saturday, November 15, 2008
omgg argh!...fuck the neigbour who complaint sia!...wtf....its like today we morning from ard 9 plus to 2 liddat..our house do some construction ma...coz the titles on the wall pop out already then like going to crumble anytime..so we ask the next door neighbour who is work interior de to help us do..then got this freaking neighbour downstairs..go call police sia!...wtf...they din even like come up and talk to us first sia..call police straight away..but the police also quite gd la..just tell us..umm try to keep it down..thenw e told him finishing le..left a few more titles needa cut only..so he say okok try quickly do k..then they took my ma nirc number and telephone then left le...wtf lehzz..we living here for like ten plus years le..nvr construction our hse b4..this time is bo bian we got to do..then the nieghbour liddat!..wtf..okay anyway the police say is downstairs ppl complaint..so next time whoever downstairs do construction ah..im gona call police also ah!..fuck fuck fucckkkkk.....argh..dun care is which unit de..wanna offend ppl might as well offend al...puiiii!~
She left her message at
9:46 PM
omggg..hahah today after training met up wif my pri sch friend!...phew since sch reopen we haven met up sia..until today...felt soooo great seeing themm...and as usualll eat cheap cheappp..then went slack ard and drink...soo we did a lot of rubbish and of course..lol!..falling down...poor wei juan and phy..they fell from some turn turn thingy at the playground..and omgg wei juan!!..i no push uuuuu i was trying to save uuuuuu..lol!..k nvmm..conclusion: FUN FUN FUN AND MORE FUN!!...nvr fail to have a hard laugh everytime we meet!! and of coursee no forgetting CAROLI!..goooodnesss hoow long have she MIA..and we still keep trying to contact her!..finally today after 1 year plus or 2 maybe..she met up wif us!...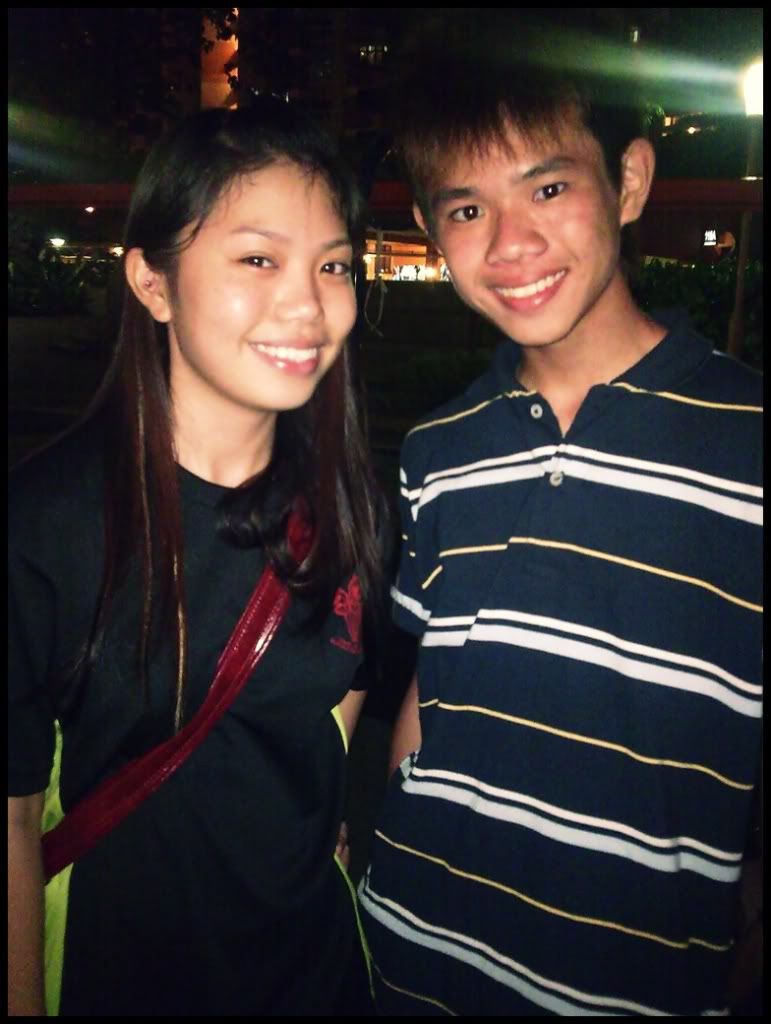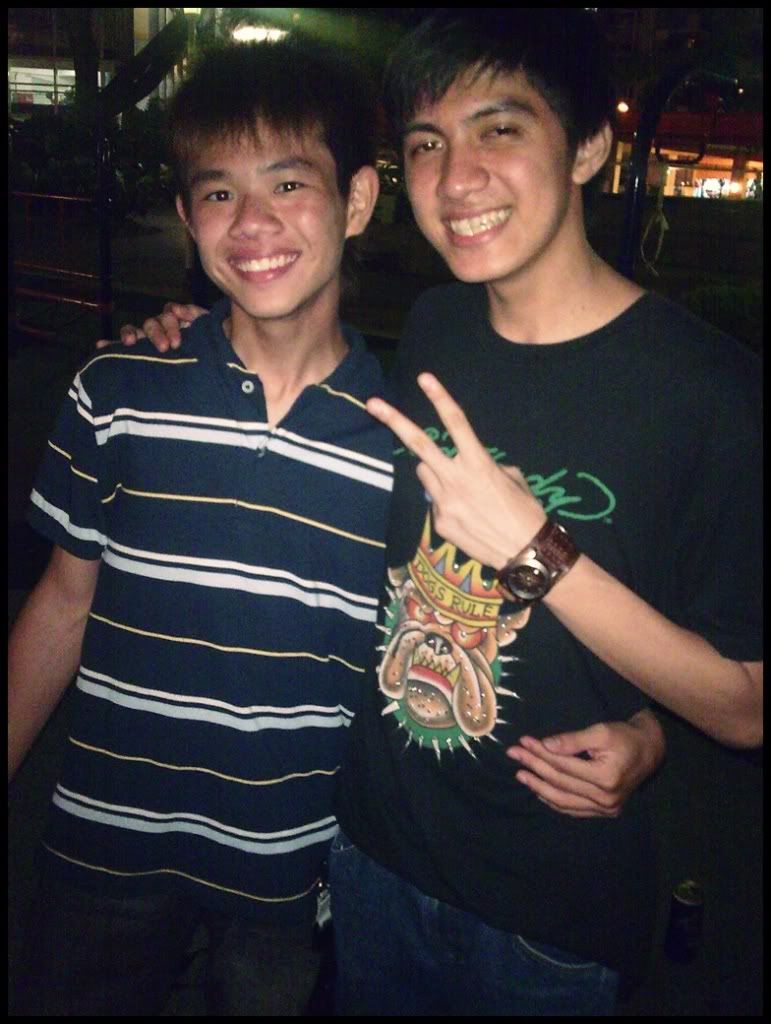 She left her message at
7:57 AM
Thursday, November 13, 2008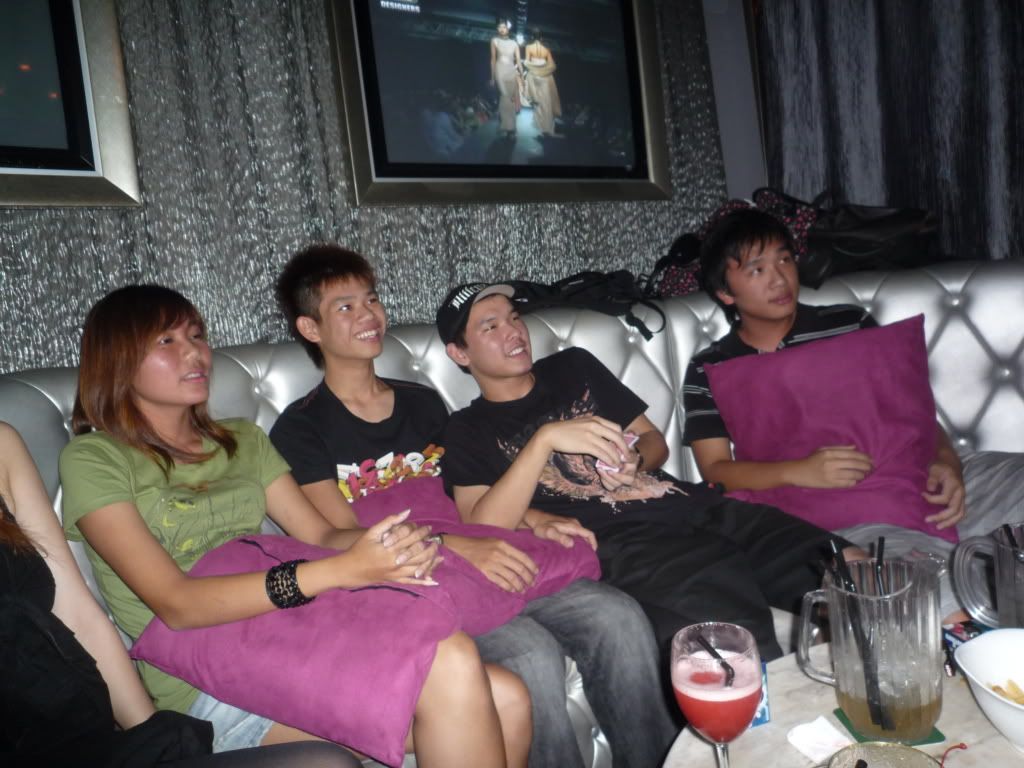 *everything on tat happen on tat day is buried on tat day soo no further infor..loll
She left her message at
7:32 AM
lol..k my ma today is damnnn random..i came home at 4 plus rest then later go driving..then she came back at ard 5 liddat..then she was like sweeping floor..then suddenly entered my room and say(translate from teochew to eng)..sometime i reallyyy dun understand..i really dun understand..dunoe wad u are thinking..how your brain thinks of things lehz?.i really dun understand..y ah y i no matter wad cant understand u one huh??..then she smile abit then walk away.lol!..no matter how evil my ma is ahh..i still love her sia...shes also siao siao one..only she nvr realise..i alsoooo dun udnerstand her..lol
She left her message at
7:13 AM
Monday, November 10, 2008
weeeheeeeeeeee....happy driving today...turning turning and more turning..then for the last 30min i went to the outside road...omgg..lol..was fun fun fun..:):)!
and okayy today i think sth's wrong wif my stomach...i've been eating alot!..morning i woke up..coffee..bread..and 2 meechiamkueh...then ard 11..i had chicken cutlet noodle..then at 3 i had chick chop..then at 6 liddat..had some snack here and there..then now im eating chicken rice..and a zinger set meal..!!woo hooo...nothing beats eating man!..i always feeel sooooo happy and bless when im eating!..and of course im a lil grumpy when im hungry..seriouslyy..lol my work friend have like notice tat sia..loll
She left her message at
5:31 AM
Sunday, November 09, 2008
hmmm okay on a sunday eveningg..chatting wif my mum and dad...i found tat both of them have really diff views on things..i was telling them abt kayaking..tat i went and saw the competition today and i said i was really interested and stuff..then my dad gets it..he say as long as i can maange my studies not failing any then i can continue..
but my mum on the other hand dun get it..she say..u go kayak..go eat transport all tat need money..and if u go training means less time to work..so less money..and moreoever its not like as if kayak will help u in the future..its not like a language or sth tat can hgelp u in your work next time..then she started comparing me and other ppl..saying tat okayy..u see ah..this person is taking business then she go take another japanese course..this is not waste of time and money..because it might be useful for her work next time..and my ma say to me tat..kayaking rock climbing all those is waste of time and money..wads the use of training and stuff and go competition..so wad if u win.even if u got a big trophey or medal..so? u put at home..then wanan do wad wif it? collect dust..or worse if u din win..all the time and effort is for wad?..then i told her is interest interest!..then i told her wad my friend told me last time..is tat if tats really my type of thing and i love it..i can consider being a coach..
to me its a consideration..but to her its still a nono..to her there is no such thing as interest or wadsoever...its like shes soo damn materialistic laaa..everything must be beneficial in the money sense then she will encourage me to do it de..so sian..but no matter wad i will not quit de..will not have a second time..but i really hope she understand sia..i dun want to do things behind her back or bluff her..so sian...
She left her message at
3:02 AM
Saturday, November 08, 2008
okaayy a post b4 i go to slpp...so summary of wad i did today..woke up early in morning..then went sch for kayaking...was a lil late...so everyone kena 100 push up and ran the resirvoir..lol my timing was 26.33...itsl like damn cui for me already can..i dun have the stamina la..but i have the mind to go..so i just kept running non stopp..will improve de i hope..yeah and qing also..she ran non stop too!..:):)..oh yar and most impressively is jing yi!!8)..although she has ashtma she still ran and in the final 200m liddat she sprinted!..yeahh shes strong one okayy..!..then todays training was fine fine..every fine..everthings fine..lol..i manage to do submarine and kayak 3 times to 150m there and come back..:):)!..happy..
then after training we went changi to continue kayak..lol..enjoy the seaaaaaaaa....played ard for 2 hours..capsizing..pushing chasing..lol..lotsa fun.then dinner time...
and for supper we had prawns!!..we went pasir ris prawning!..lol..sat there for 2 hours..and finally the last few min we manage to catch some prawn!!!...okayy acknowledgement: thx to jing yi and kok yong thats y we go prawn!...lolll..if not cui siaa...then after tat ky drove us home..heheheh!..:):)!!!...fine fine fine day although im coughing like helll now..abit sick sickkk...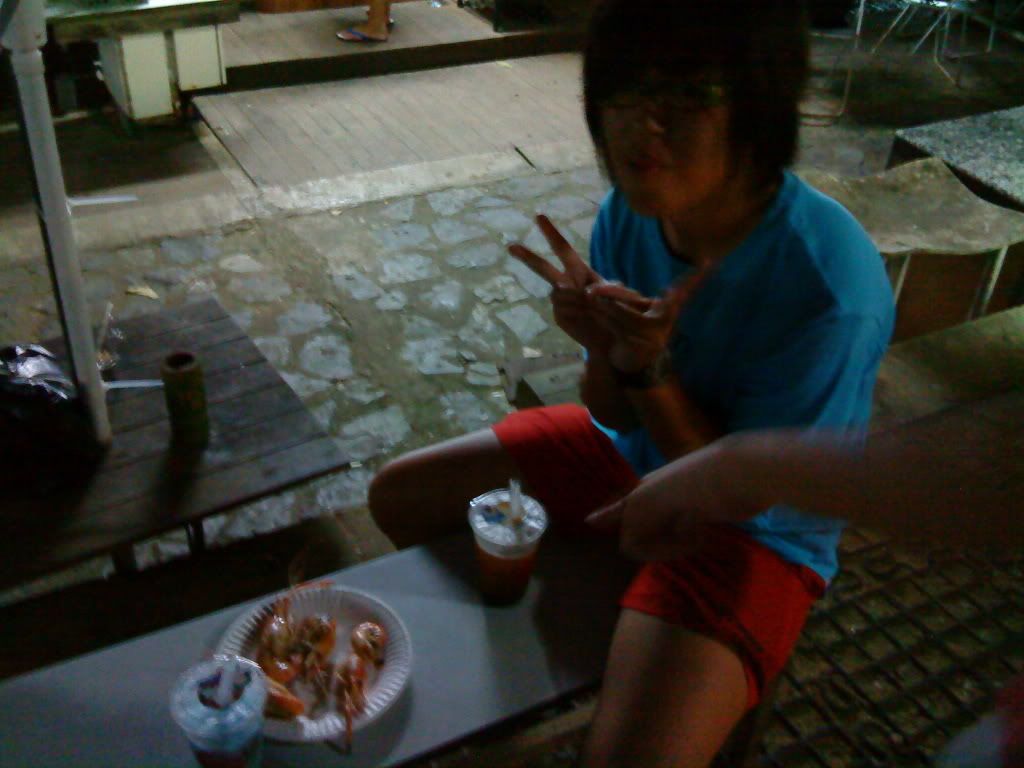 She left her message at
7:24 AM
Monday, November 03, 2008
haven been on9 for the past few days...was just toooo tired..and sick...ytd 9 to 6!..i was like sooo restlesss in sch wanna escape home...but wadever i stayed till 6..then quickly go home had some light dinner and started slping!..had a lot of dreams.....friends..my grandma..work..play...i dreamt of a lot of things sia..then when i woke up the time is only 1am..and i tot i slp for very long le..then continue slping till today 6.40 liddat..and i feeelll sooo much better!!..today will be my first practical lesson..omg lol wonder how it will go!.
She left her message at
3:29 PM