Monday, September 29, 2008
this songgg is a song tat i dreamt of last night!..lol..i rmbed watching the mv last time..then i dreamt tat i was underwater wif my granddaughter.=.=..lol part of the lyric..
She left her message at
8:38 AM
few new updates...
firsttt....i found a long lost pri sch friend in friendster..umm no actualy is she found me!...just great to have more pri sch's friend contact...afteralll its the best time of my life..when i think back, i can atually still rmb some damnn funy incident tat happen..those time were the time whr i feel so free..whr theres just pure and innocent ppl..k moving on..
i've finalllyyy starting my barista life!..woooo..today's the first lesson..hope everything will be fine from tml onwards..suddenly i just realise how muchhh drinks there are in bakerzin..and im really impress by thier quality..the ppl there really care abt customer one..eg. the foam for the cuppucino..if there is just one small bubble tat is bigger than the standard one..thjey will take it out..and the supervisor b4 entrustinhg u wif the drinks..she will some times spot check and see if the amount and quality of foam in tat coffee is up to standard or not for every cup u make during the testing period..and will also test on the oz of syrup to put...the decorration for the drinks..y the some procedure have to be done first and stuff..hmm..great great..! im learning more things..and and im gona do my first latte art hopefully by tml!..tried once today but failed..lol..
She left her message at
8:27 AM
Saturday, September 27, 2008
kidsss nowaday is sooo rich!!..got this two kid came to bakerzin today...one is the younger brother probably ard pri 5 or 6..then the sis is ard sec 2 i guess..coz i saw blue ez link...and guess wad they got!? each 1 IPHONE! PSP..then they are like pressing..and ask me for the wireless password.i was like omg..first i cant even afford it..second..even u gimme tat thing i also dunoe how to use..lol!..i noe..a bit idiot..but..yar..
next was when paying bill..that girl took out a citibank card and just gimme to me sia!!..signed the bill and just went off..
to me is like very shocking la..during tat time i still eating kopi diam and playing gameboy colour lo..okay la..i noe i abit obiang one..but..lol still too much for me..if i had thier richness ill be going out likee everyday feeding myself..go for courses tat i always wanted to learn..and most imptly open a shop i've always wanted to open!
She left her message at
8:38 AM
Wednesday, September 24, 2008
woohoooo finallyyy my fave no. 18!...ahah im 18 le..yeahhh..so my birthday was celebrated wif my sec sch friend in a 3 day 2 night chalet..i have to say that i reallly enjoyed the whole event a lot!!!! thx everybody!!!!!!!!!....jing yi, kok yong, tekai, qing , sia, zhi min, siew wai, linda, hong giap, yenly and yining( u ah u ah...must meet up wif everyoneeeeeeee soon okay!..everyoneeeee)
ok thats alll...theres sooo much details but i guess just gona stop here.. just wanan say again..THX EVERYONE!..
k after chalet ended..went home and after bathing came out agian...wif sia and tekai..me and sia went to enrol in driving..lol..then our btt will be on 22 october..:):)!..
then after tat at night meet wif qing sia travis and jared..went to MOS..at first wanna go zouk but sia say tat her friend say got alot ppl..so yar..first time to club was fun!!!..loud music...a lot of body contact..and drink!!..qing and sia both kena grind by ppl..i also got grind a bit la..lol..coz there a lot ppl ma..then got chance so try lo...i play ard wif 4 ppl liddat..then the 4th one..move away!..first time i try..she move away..tthen slowly come back again..then i try again..she move away again..=.=..k lo fine..but the other 3 was okay..then finally its 4.30am!..time too goooo home le....sia la..damn tired sia..after clubbing..then today slp until 10am..
conlcusion: clubbing is fun..but definately not a place ill aways go..1 month once still can la...if every week ah..die sia!.
k so heres the present i got..a wallet! and a thermo flask!!(Damn cool right..can put my kopi bring sch next time..hhehehe..thx jing yi!)
She left her message at
10:29 PM
Wednesday, September 17, 2008
painnn...the ball of the foot is pain sia..walking ard 12 hours everyday at work...kinda tiring..but umm everythings okay so far...gd gd!..my next target: to learn latte art....gona learn it sooon...heheheheeeeeee......
She left her message at
8:56 AM
Monday, September 15, 2008
k anyway im working at bakerzin..ehehehhe..eh food there damn ncie lehz..got whole day set lunch also..plus until ard 16 dollar and few cents..got ice tea(mango, peach, pafssion fruit, lemon......) or soda (same as tea plus got promengrante , blueberry........) to choose cnt rmb all..free flow of bread..and main course..k la quite feeling..(cant think of the word now..brain not working.)
and one more things..i really hate the customer during lunch hour..all have attitude de..those working ppl..think they might be high in rank in thier office so wad...big deal..doesnt mean they can look down on ppl lo..eg. got one oversea friend work there ma..then eng nt very gd..then she tell me tat the office ppl esp girl hor..damn hao lian..got one say to her friend..'i dun understand how this girl can work when her eng is so lousy..i nvr had so mcuh difficulty talking to someone to order food..HAIZ..TSK......' liddat lehz!!damn guo fen can
then i was telling my friend tat one day im gona show the custormer attitude sia..last time work hotel and swissbake the ang mo and most oversea ppl alll damnnnn friendly de..like so happy working wif them..can chat talk laugh wif customer de..now ah..i see this batch of customer ah..i whole day face Black sia!
She left her message at
9:48 AM
ok..some post b4 i go to bed...umm..okayy i was thinking...i always have like mindset of how i want things to go..and if things doesnt go as it is..ill try to accept it..but slowly..if its still not the way i want it or can tolerate it.then ill quit and will try not look back on my shoulder..
but dunoe y recently i started to think if some of the things i did is really wad i wanted or due to some reason tat i did it..hmm but i guess we cant possibly be happy wif each and every action right? sure will have some regrets in life de..soo yar lo..anyway i've been reading some books on the ppl who die..and hor i found out tat theres cases whr ppl die but dunoe they are dead eh!..damn interesting..
She left her message at
9:27 AM
Wednesday, September 10, 2008
okayy..soo after 3 days of work...lets look at the progress now..ummm...everything went very very fine...have been promoted to doing the cake section now..hhehehhe...so for closing ill be in charge of keep cakes and stuff..instead of the floor now..eee vacuum floor..and stuff is just so sian...soo ytd manage to get 3 slices of cakes home...and its my breakfast today!...ummmm..nice niceee...and my lovelyyy kopi o....so shiok can..
conclusion: lifes great so far for me!..work work work...eat my fave stuff and drink my kopi...6 to 7 hour of slp everyday..and work again..
She left her message at
6:22 PM
Tuesday, September 09, 2008
my heart is beaTingg sooooo fastttttt...tats wad happen when i have a new brand of coffee to drink!..my ma recently bought a new type of coffeee...one packet is soo damn big..and is like twice the among of coffeee inside as compared to my previous one..more caffeine..sweeter..and soo thick...lucky im almost finishing it..since i drink ard 3 cups a day..or 2...think im going back to drink my usual KOPI O KOSOSNG JI BUEH!
She left her message at
12:57 AM
Sunday, September 07, 2008
pri sch friends gathering + jp's belated birthday!..!!!okay first have to thx zan xi(my poly friend) for helping me book the chalet 3 days 2 night for only 70 dollar can..lol!treat u eat next time k!..then okay move on to the chalet part..so first day we went there to have bbq seessssion and after which card game..alllllll the way till duneo wad time..then me ko le..lol first to slp!..ahahaha..lucky when i slp im like dead pig sia..no matter how to wake me also quite hard..unlike phylliss..whole night let wei zheng irritate sia..lol wei zheng just cant let her go..kept talking to her evne after i wake up at 7 in the morning..i still see him talking to her sia!!! then phyllis ask me save her..lol!!..bo bian..then i watch my fave morning show..zhao an ning hao..lol kay i noe..not some teenager show..but i like la..lol!..soon after i on tat show..wei zheng started complaining its boring..and before i swtich channel abt 10min later..i saw him ASLEEP LE!..lol...wow..the power of tat show..then everyone went back to slp again..even those sllightly awake de..coz all say the person talk makes them wanan slp.lol!..so everyone else wake up at ard 11..from breakfast i skip to lunch le..lol..k enough!..photooooo..
on our wayyy

dunoe wad we talking abt also..lol but i think i was shock,

start bbqinggg..dun siao siao think phy cant cook?wait till u see the standard of hotdog and crabstick she bbq...totally no chao da..!..somemore golden brown de..
dunoe wad i tell her also..see she sooo shock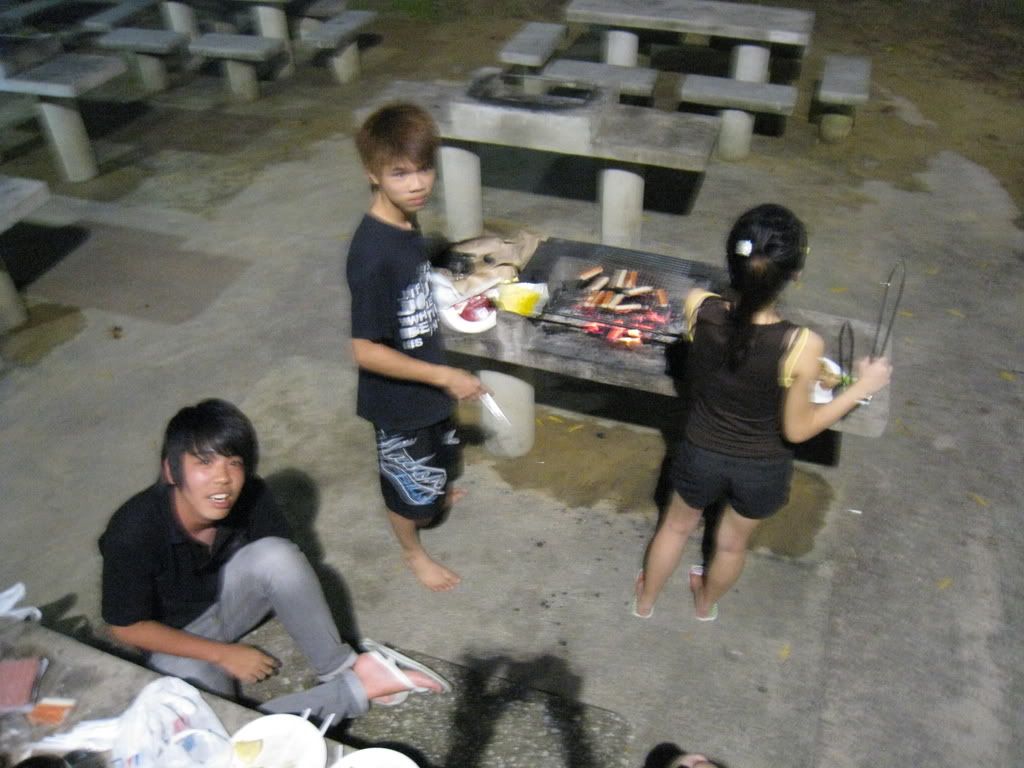 damnnn hot..eat straight after cooked..everyone did tat..lol!
juan and wei zhenggg
phy is not posing..lol..shes covering her pimple!!ahahah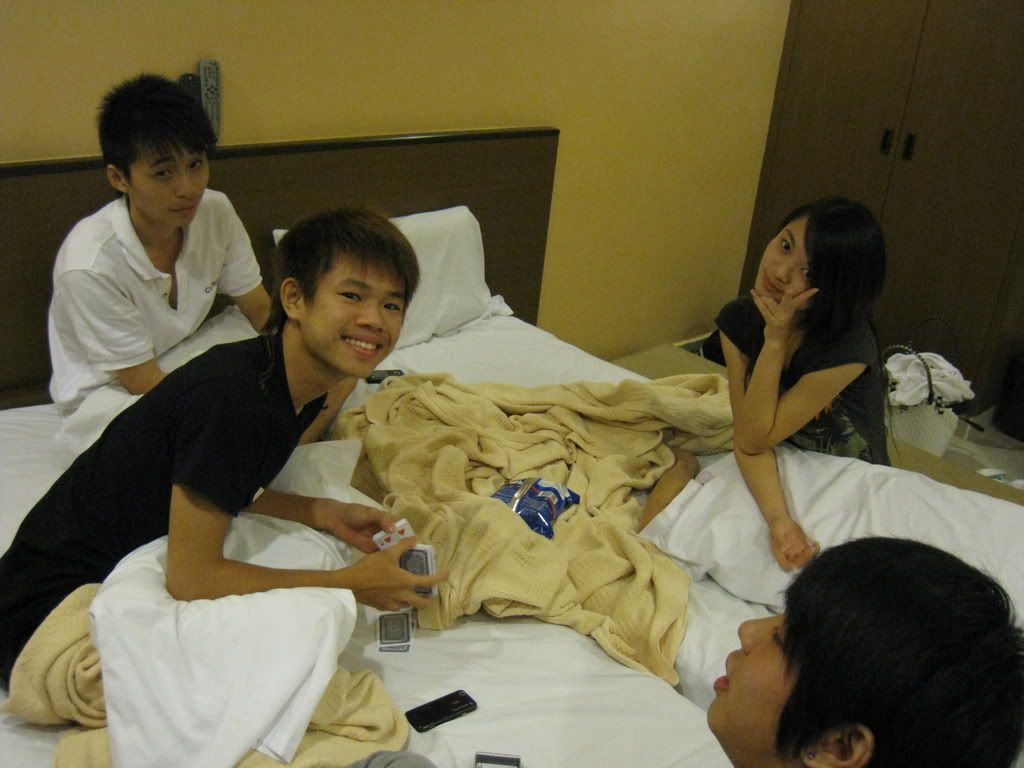 the end...me and juan!
She left her message at
6:29 AM
when when when??..issit gd or bad..irritating or loving..
She left her message at
6:16 AM
Saturday, September 06, 2008
shioked!...went kayak today wif jing yi qing kok yong and tekai!..morning go for some first aid and CPR lesson..lol..FREE!! omg keyword for making me go can..lol!! organise by water venture de..then got a cert for sitting there like 3 hours..okay la..learned quite a lot..then went kok yong house to get hes car..then drove us to kayak..then we played for ard 4 hours..or so..went back wif everyeon chao da...espcially me coz i nvr put the sunblock..damn dun like the smell..but its okay la..no prob..umm after tat i ate a lot today for me la.a lot..umm nasi lemak, shared a $12 big head wif jing yi ky..after tat went to eat another bowl of wantan mee..
umm..then kok yong drive us ard..see plane take off and stuff...after which we went to this ice cream shop..4got name le..lol i got a MRS SMITH ( apple an cinemmon) ice cream..it rockz to the max! dman nice..but everyone else rate it the last among al the ice cream we bought..lol..so after eating..we went tekai house played dai di...and slack a bit..here and there..
finally..home time..kok yong drove allll of us home...and it was raining..so yar..lol kinda feel a lil bad coz everytime sia! he everytime drive us home here there..everywhr..lol..hehe wait till i get my liscene la..soon soon i hope..
some cui photo..lol! first aid de course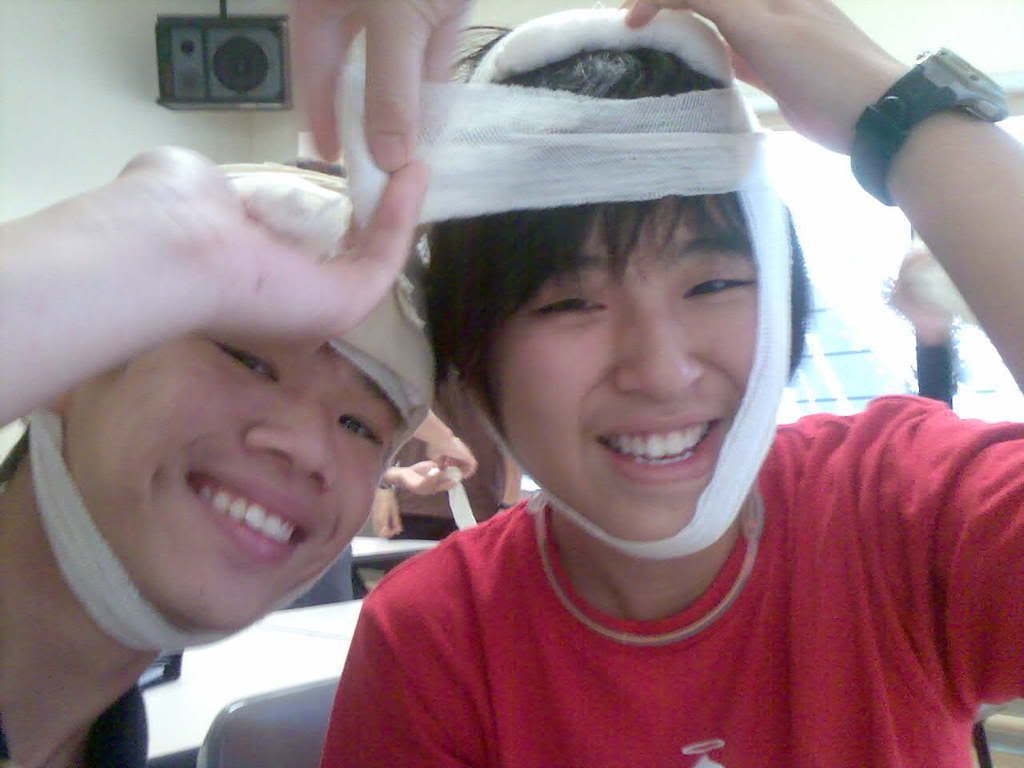 She left her message at
6:41 AM
Wednesday, September 03, 2008
birthday!..lol i realise tat my birthday is tml..lol my chinese birthday..8mth chu 5...lol..its like a big thing for my family siaa..even bigger than my ang mo birthday..lol...they like..so excited eh..then my ma say tml morning gona cook sweet noodle for me..and two red egg..lol!..yeahh sweet noodle..i think its for teochew.coz once i bring my friend eat.then he say wa..soo sweeettt..toooo sweet then he go home ask his ah ma..then the ah ma say is for teochew..hehe..nnice nice i like!
She left her message at
4:01 AM