Sunday, July 29, 2007
Church..today i went to church wif gary..its my first time going to church..well at first i felt a lil weird..but after a while its ok...church is reallly happening..they have rock music at the start like club liddat..but the lyric is more meaningful..then after rock music its the slow ones..for ppl to sing along..and feel i guess...its kinda weird..most ppl are raising thier hands..jumping ard while m just there clapping..i even saw some1 kneeling down when the song is playyed..after all tat..is listening to the pastor talk..which is really interesting..i've actually learn some things..tat u must be confident in the things u say..even if u are a nobody..be confident in wad u say..take credibility and one more C i cant rmb..even if u are a nobody..but u are confident in wad u wanan say and noe wad u are saying..wad u say can make a big different..and some other things la..abt we helping other connect wif god and stuff..its really a nice experience..ppl there are friendly too..buttt..i dun think ill be going back i guess..although my heart a lil itchy..haha..but still yar i dunnoe y la..lol
She left her message at
6:41 AM
Update update updateeeeeeeee...........hehehe..tat time our class almost all ppl la..er..except imarn tat gang..nvr go..and gary and karen and idah..lol..the rest we all went to downtown there to playyyyyy...kenneth they all went to play pool..while me jian zong esmond and debbie go play arcadee...was damn fun laa the first game we play was teh baby one..must hit hit hit one..i wanteed to play the slap face round..but sian laa...both of us cant get pass the second round which is the run run run then must land on the sumo's stomach onee..everyone tried..but all failed..piagnzz..then we went to play datonaa..goodness..dun see debbie like dun play game tat type de..but she play datona damn power la!!almost like making everyone's car overturn sia..then sian i was last again..then last min i catch up and made jian zong's car overturn at the last lap..and wahahhaa...doing tat got me into the second places...lol!!..dunnoe wad happen to esmond got last..but wadever..everyone was quite gd at tat game la..all was sooo closee..to first then last last to first..and so on...okay..heres picsssssssssssssss
A7D4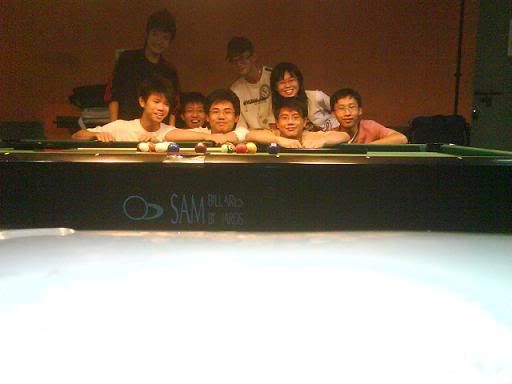 half of the class
She left her message at
5:18 AM
Wednesday, July 25, 2007
Back to balance again..ok..i today went sch and found out tat wad i did was on the right track..just tat miss a step or two to get the perfect ans..was kinda staisfied wif it..coz at first i tot i was totally wrong..so ok..ill work harder!!...and most happy is today rockclimbing theres a internal competiton..at first i was very nervous but i told myself to be confident..and there i went to climb..when i was reaching the roof i like alreayd no strength sia..but i hear ppl cheering..then i told myself must pia!!...and i use all my strength and manage to get pass tat harder part..and finally i reach the top!!!yeahhhhhh!!!..was damn happy i did it..then the result came and roy told me i got first..and he got second..but i din get to see the result and it was not annouce officially too..so yar..must wait till next wed..soo..hmm wish me gd luck baa..hehe
She left her message at
8:28 AM
Tuesday, July 24, 2007
VULGAR VULGAR VULGAR!!IM FUCKING irritated now siaaaaaaa..................com suckz like wad shit liddat..the internet keep irritate me...then now trying to be gd and do tutorial few days in advance instead of a day b4..and siannn..stuck stuck stuck..dunoe how to do..wad the fuck lor..spoil my mood..always liddat...happily wanan study will end up getting very angry!!!..shit lor..studies!!..fuck all the sci and math laaa.....knn!
She left her message at
6:25 AM
Saturday, July 21, 2007
okay...part 2 is the firworks..after eating we went to marina square to walk walk a while..then while walking there i stop at the surfn shop and bought a slipper!!..wahha..my first slipper lehz..lol!..ok..anyway after we reach marina square we shop a while and after tat we when starbuck and bought ourself a drink..then we went to esplanade!!..and waited patiently for 2 hour plus for the fireworks to start..but b4 the fire works..theres a lot of our performance..on the water!!..theres this helicopter approaching us..on the water..then on the way..divers will jump down from there..then stay there..then after a while a boat will come and save them..ok wadever does'nt sounds nice right..lol..but anyway yar..theres a lot others la..but the main thing is the fireworks..which start at ard 8.10 liddat..its very beautiful..except tat theres some idiot whose behind us..shouting vulgar..like F!so nice sia!!knn..cb!!..f! la..i like sia!!shout shout..irritating..but anyway..heres the video
She left her message at
9:29 AM
Went out wif sia and tekai today!!..omggg there is justt sooooo much to posttttt.....dunnoe when to start..okie first we meet up in the mart at 2 liddat..everyone reach in time..and then we went o orchard..first stop was far east..in which at there..sia bought her make up and shoe..tekai bought two shirt and me one shirt...hehe..and the sales lady gave us discount..so we happily take our things and went for the next stop which was hereen to buy sia's bag..when we reach there..we relaise its the wrong place..sia said tat her bag is at cine..so we decided since we are at hereen then we go eat the famous wanton mee ba..so we went and theres a lil crowd..but din take us logn to find a seat..so we seated and enjoy our meal...the noodle and wanton is quite nice..better then most stall..but i dun think its the best lehz..hmm..ok..heres the pic.hehe..okie..wait still got second part..which is abt fireworks de..
She left her message at
9:12 AM
Friday, July 20, 2007
Whew.....one week has pass lidddat...and today i was damn lucky..first time..pamela called and said tat today's scedule is cancelled..wonder if theres a reason behind it or not sia..lol..but wadever it it..thanks to it..im able to get some rest for the week..have been chionging the week like siao liddat..almost everyday go home at late night..due to climbing..mon wed and thurs....now my hand is aching sia..and competition is coming up a lot recently..just finish bouldering one this wed and next next week will have a wall one..anyway this week is not bad la..especially today whole class like crazy liddat when sch is abt to end..all so high and crazy.pla play play..especially gary karen and debbie..lol!...all so hyper..but wadever...as long everyone is happy and tats gd le..yes man!..our class rockz..but i heard sia say tat her senior said tat when year 2 every class will spilt le..and no longer together..i hope our class wont sia..and still together...hmm wad do u all think?!?
She left her message at
6:13 AM
Tuesday, July 17, 2007
today was cool man!!..lessson ended very early..then i went home straight away..and was feeling bored..so i msg qing and told her ill be finding her at her work place..then at ard 8 liddat..i told my dad i was going out to do some h/w..which i really ok...i brought some math to do..while waiting for qing to finish work..so i did some h/w for an hours plus liddat...then after qing finish work which was ard 10 plus pm..then ah sia called and said her dad dun allow her to go eat..then want us go her house first and prove tat its us shes hanging out wif at night..so we went and after 20min liddat we went to eat suppper..we at hotplate tofu..fried rice..roti john and hor fun..and chatted a lil..after which it was ard 11 plus..then we went ah sia house to watch movie!!we watch school of rock..then after tat we went to watch just like heaven's ending..ice age's funyy parts..and step up's dance scene..ok..after we finish all this it was already like 3am i think..then qing used the com..she use msn while i browse song...then finally after 30min i manage to la qing out of sia's house..and we took at cab homeeee...it feels sooooo gd during the morning..theres no one on the street..few cars..and the air feel sooo refreshing and cool....just love it..lucky the next day i no sch...poor qing..got sch at 9..haha..but she seems happier today i think..she laugh laugh..so hope she not so emo le ba..i guess...wadever..slping time..tml going new water!!!wahahah
She left her message at
6:52 PM
Monday, July 16, 2007
ok..after 1 week of break..today's the first training for rockclimbing..today was speed climbing...first trail i made it to top at 23sec..then the second one..i made it 19 sec..this was better then most i think..but then still...i feel ok only..after all im a beginner..then i saw this senior..he maange to jump here and there..smear wall and reach the top at 10sec..was totally impress!..im gona train hard and do tat someday..next target i hope is 15sec..then slowly get better i hope..
next thing is i think i need to be more socialalbe sia..but i just cant lehz..dunnoe y..i like to do my own things..be in my own world..and just come and go..and i noe this type of ppl dun make a lot friend de..but i wanna make more friend...but i just cant socialise lor i feel..it only last a while then im back to myself again..lol..nvm..guess it takes time ba..see how it goes..maybe i should just talk more to ppl..but then again..except for greetings i dunnoe wad else to talk abt le..
She left her message at
7:29 AM
Friday, July 13, 2007
this week is liek a lil cxrazy mannn...wa kaoz..im like excersing everyday siaaa....later rock climbing..then during break will go play badminton table tennis wif my class ppl..and today also sia..after play table tennis wif kennth they all i run to play wif gary they all badminton..run here run there..like siao liddat..then was a lil late for OC lecture..lol..the image of debbie jumping ard runnning here there suddenly flash in my mind..lol..shes very funny lehz when paly badminton..and hey this is supose to be a compliment okk..cute hor..lol...and shes better then most girl i see sia..i see a lot hor..at there sha jiao sha jiao one..a lil then make the sound..but she not sia..shes violent de..she will OI!!..very feiece de..tats y become class rep..and treasureer..power sia i tell u..lol!..hope she wont kill me after seeing thiss..lolleh compliment horrr...
She left her message at
6:51 AM
Sunday, July 08, 2007
ok..now to the next update...its wad happen during work..ok lemme try to cre8 the image..its 8 in the morning..silence filled up swissbake..but it was broken when i came in and say good morning auntie maria and auntie cindy!!..usually the reply would be full of energy and auntie maria will hey puppy!!!...but today's reply was dead..auntie cindy replied monotonely..and auntie maria kept quiet..instantly i felt the strong negative vibe between the two of them...and kept quiet..thru out the whole morning..none of them talk to each other..and me being stuck in between had to do more work..coz somethings tat auntie maria 4got to do..auntie cindy would ask me to do..and on top of tat i had to do my own job..ok..mornning was busy as usual i had a lot a lot a lot of coffee to do..and ard 11 josehp came in..he started hes usual chanting..saying everyone he sees..and got everyone irritated..especially auntie cindy and auntie maria..im ok wif it coz he praise me a few times..haha..first time sia!!!first time he nvr say me and actually said gd thigns lor!..ok..wadever..then after he left..tats when the fight started..auntie cindy was very angry and told auntie maria quite nicely tat she should look after the buffet coz its kitchen's job..but auntie maria got irritated and misunderstand it as auntie cindy shouting at her..then she started shouting back..and this is when all the shouting happen..it got so loud tat the customer outside was like suprise i kept looking into the kitchen..me and evangaline who came later were like..omgg..wad to do wad to do1?!!!!then we decided to just mine our own business and continue doing our own things..after ard 30min of shouting..auntie maria just walk away and went out..but came back after ard 15- 20min..then aiyahhhh end of day la..lazy continue..tired..lol!!
She left her message at
6:57 AM
So manny things happened in a short period of two days..ytd i had rockamania...i reach tp at 8..registered went to isolation and waited for the competition to start..due to the rain we waited till 9am...but was told tat its still raining and it wil be postpone to 1pm...so we can go home or chooose to stay but must be back at ard 12.30..okkk..so i choose to go home..i rush and reach home at 9.45..just nice enough to watch an episode of doreamon..was so glad i made it..lol!..then after watchign at 10 i went to bed..i just manage to close my eye and set my alarm..then suddenly!!!the phone ring..she says shes from rockamania and tat i have to make it back to sch by 10.30..at tat point of time i was a lil irritated but ok la..nvm since its morinig!!haha..ok wadever so now zoom to the competion..ok the competition start at 11.30 then i was no. 32 i waited till ard 2 then my turn i climbed and manage to reach the winning tile..then everything ended and i got into the final..18 or 17 ppl got in i cant rmb..then in the end i got 5th..hehe..coz the final's route i cant reach the last 2 tile liddat..slip and fell..but the whole day was really fun i had a great experience....
She left her message at
6:07 AM
Thursday, July 05, 2007
first time making musli at my work place....wa seh...although i hate to eat it but makign it is so funnn..apple..sultana..honey all tat...so nice..mix mix mix...after mixing all ingredient i tried a taste of wad i made...omggggggggg..its still as awful as it is to me..haha..but hor..still i dunnoe y i feel tat its still nicer then other ppl make de..lol..maybe ownself make de things ownself eat le taste better ba...wahhaha..okok..show u wad it isss........
does'nt it look nice!!!!!!!!omggggg..!!
She left her message at
5:03 AM
Tuesday, July 03, 2007
Hmmm...today end sch at 3..after tat went to do project wif my grp member..until 6..i feel so bad sia..coz my academic thingy is nto very good..then i feel tat i din help much or at all in the project lor..mostly is our most As student - debbie who did it...hai..ehh so sorry lehzzz..ok anywayy..then after tat i when to resuce qing at CS from myojo..lol...not really rescue la./..just tat qing wanna go work then bu hao yi si ma...so yar lor..then she ask me waited for her..ok lor..fine..then i sat there and did some math h/w...ok la..actually my time was well spent while waiting for her..it will not be as well spent if i were at home for sure..anyway so after tat she gave me ice cream and drinks to eat..its very nice lehz!!!..shwo the the pic..look at the ice cream she scoop gimme..aiyoooo horrible...hehehehehehehe............................
She left her message at
8:50 AM