Wednesday, June 27, 2007
As usual today was my rockclimbing training...we have to prepare for the upcoming rockamania..today was exceptionally nice..coz the grp of guys went to the oppositte coffee shop to eat and chat together..haha..mostly from chem engine!!..yeahh we gona rule the climbing club mann..lol..recruit more ppl...its good tat i start making friends..being more ON and go eat together all tat..if not like last time always like do my own things liddat..but hor..i wonder if it wll last sia..i hope so lehz..but i scare tat as time pass il like..aiyah nvm la..i wann go first all tat..coz i still not quite use to the feeling of mixing ard..lol!!..si ka li later few weeks u see my alone again..no la..at least wif my loyal friend - tekai to pei me..lol!..no la ill try to be more socialable..and talk more..today at coffee shop is like..i say only few words then keep quiet all the way le..nth to talk lehz..how ah!?i tried of topic to talk abt lehz..but then i still like prefer to just keep quiet and listen..but when i do tat..i think ppl get the wrong impression tat i am very dao or sth lehz..aiyooo..confusing alsoo..lol..nnvm ill figure it out..
She left her message at
8:24 AM
Tuesday, June 26, 2007
I'm soo happyy...today or almost everyday is a happy day!met a lot of pri sch friends...sec sch friends..poly cca friends..my cousin today...after coming to poly..im slowly getting back the feelnig i had when i was in primary school..i looked forward to sch everyday to see my friends and my classmate..coz they made my life so happy..and lively...haven got tat feeling since sec sch..hmm come to think of it i feel tat sec sch suckz the most for me..except sec 4 i guess..although theres o lvl..but tats beside the point..during sec 4 i've made a few good friends like the one who sit beside and behind me..and the one who sit infront + beside + beside me..lol!..they will noe who they are..and not forgetting some others in other classes..haha now tat my pri sch friend..poly friend..cousin..sec sch friend all in the same sch i can get to see them more often and chat and meet up...its sooo nice siaa the feelingg....lala..lol..this is just a sudden tot..nth much more to write le..tats it..lol..
She left her message at
3:15 AM
Friday, June 22, 2007
Neh Neh pok!!....lol..today my workplace has a new cake..its specially designed by a customer..its call the neh neh pok chocolate truffle..at first the factory ppl made a cake wif two neh neh pok infront..but the customer complain..said tat its wrong..the neh neh not big enough..so she made another request..to just make the neh neh pok..so today i saw the BIG neh neh pok cake...wa kaoz!!!...look soooo gross laaaaaaaa...godd......since the first neh neh cake the customer who ordered it dun want..we decided to put it on sales..but till so far..not one even glance at it..and i even heard a customer said to her bf tat..y tat cake got two neh one?..then me and auntie cindy at there laugh!!..lol..ok enough..show u the pic..er..wait i hope u all noe wads neh neh pok hor??
She left her message at
8:38 AM
Saturday, June 16, 2007
Goodness...ytd i tried making rice dumpling then realise how hard it is to make sia!..dunoe wads got into my mum..she suddenly wanna do it and did it at ard 10 plus at night..then everything ended at ard 12 liddat...i made a few..but only some looks like dumpling the rest all look dunnoe like wad..lol...heres a few photo of the making...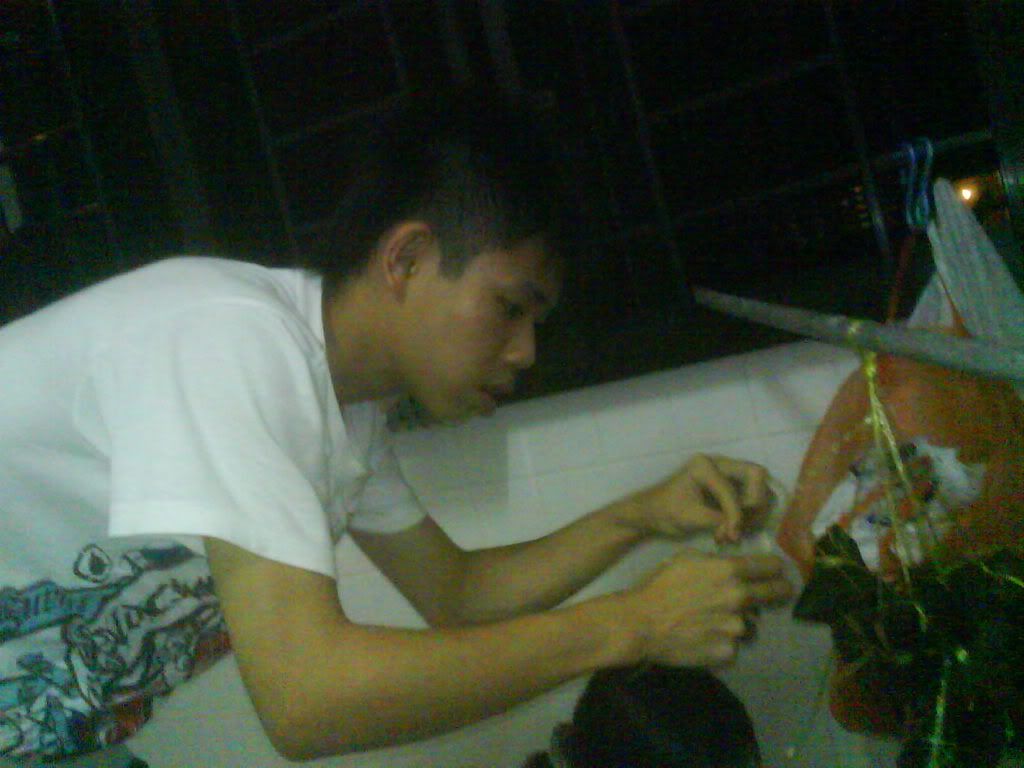 She left her message at
4:33 PM
Thursday, June 14, 2007
haha..yes man!!today went out wif qing at 12.45..we were planning to go orchard..then after that ah sia joined us at about 2 plus..then after finishing far east..we went to heren..then we visited some shops and tried some shirt..qing bought 2 shirts..very nice de..one from 77th street and one from somewhr i 4got..ah sia also bought a shirt..flower flower de..but quite nice la when wear on her...then after tat we walked to plaza sing...and i bought a long sleeve shirt from domanchi..yeahhh..ah sia and qing both agreed its nice...someday someday ill wear it.hehe....oh yar..and heres the photo we took secretly when we went to find qing the other day..look at her..aiyoo...lol!!
She left her message at
5:21 AM
Tuesday, June 12, 2007
Had a boring monring as usuall...how i wish sch start a lil quicker..its so boring during the morning..as usual ill wake up at 7 plus or 8 then drink my cup of coffee and have bee hoon or bread which i took home from my work place..then today i've decided to do something different..i've decided to practise my art..so first..i drew a windmill with a lot of grass..but after a while i lost patience because its took me like hours to finish the grass and treess..so i got bored of it..then after an hour or so..i've decided to draw my fave FF9 character : Vivi Ornitier..and heres the pic!!after hours of drawing..i think 2 plus hrs or 3 sia..dun laugh okkk..im not a very good art student..so tats all i can do..i've tired water colour..but it din go so well..therefore finally i've decided to do it in colour pencil..and for the pants i used pencil shading..
She left her message at
8:08 AM
Sunday, June 10, 2007
Wa sehh work is damn special today thx to evangeline?oh nooo work wif her so long le dunneo how to spell..yining help!!..oh yar anywayy..eveangeline today cook in the kitchen sia..fry egg..make soup and fry vege..its nice to eat sia!!..lol..special hor..in cafe do this type of things..lol!!..then after tat she give auntie cindy eat and she say its nice...but i find it too plain so i added salt..haha my tastebud is more troublesome..need very spicy very salty very sweet and for bitter is also liddat..as in for chocolate la.not medicine..oh yar!!today also still got mysterious girl sms me sia..she just msg in chinese..can we be friend..i think shes despo or friendless sia..anyhow msg ppl..yar...then the whole day ended wif a cup of mago dunnoe wad..from coffee bean..quite niceee....
She left her message at
8:52 AM
Saturday, June 09, 2007
Phew.....finally completed changing my blog...ok i hope this is ok ba...not scary anymore le baa....
She left her message at
5:32 PM