Saturday, May 24, 2008
update update.....umm firsttt is work!!!...my favourite thing to do!...okay tat time went back to work on fri night..after school..and this few weeks is the thai theme for the buffet there..umm food there is soso ba...i think..tats for me la..but heard some custormer say its very nice...hmmm..dunoe..diff ppl diff taste..anyway its 66 dollar++..kinda ex huh?!!!..but still got quite some ppl go eat...okay..heres some photo of the uniform we have to wear..and alil on the food we ate...coz i came late i hate to wear a not very ncie shirt...and tat adonis keep laughing!!..arghhhhh:P....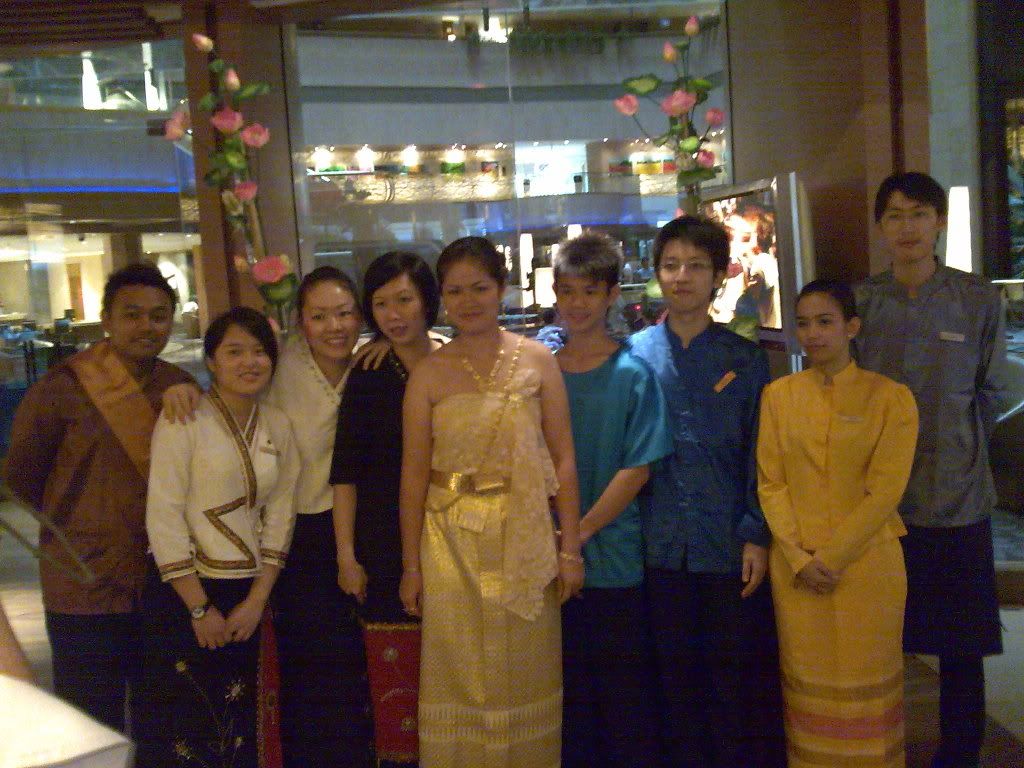 She left her message at
3:06 AM
Saturday, May 10, 2008
today was the first day of the training..i guesss its very veyr okayy..although the senior keep saying tat elf is very xiong..but i think its stil fine wif me..for now...lol...umm played a lot of games learned a lot of things and made a lotsa frriendd....ummm everythng was fine until the last gameee...lol..the last game is call giant finger..whereby theres a long wooden pole..and a tyre inbetween it..then there will be two person on each side..who have to balance on the hand of another two person on the ground..and the two person on the ground will have to lift us up..while some other ppl will lift the trye up and give it to use..than the two of us will have to remove it from the long pole..we did it..but i loss blaance and jump off the person hands..at quite a high lvl..lol..but din get hurt or wad..only slight fall la..but its kinda my fault..coz i should have just fall coz theres spotters behind..but i scare ill like smash on them..so i jump off..feel so bad coz the instructor kept saying tat incident...loll..well i guess its okay..exp maa..
She left her message at
5:03 AM
Saturday, May 03, 2008

You Are an Alien
You're so strange, people occasionally wonder if you're from another world.You don't try to be different, but you see most things from a very unique, very offbeat perspective.Brilliant to the point of genius, you definitely have some advanced intelligence going on.No matter what circles you travel in, you always feel like a stranger. And it's a feeling you've learned to like.Your greatest power: Your superhuman brainYour greatest weakness: Your lack of empathy - you just don't get humansYou play well with: Zombies
She left her message at
5:13 PM