Saturday, March 31, 2007
OK!..nexttttttttttttt..after tat we went to 85 market to eat..we ordered a stingray...4 bowl of mince meat pork noodle...20satay...oyster omelete and 5 suguar cane!!aiyah 4got to take the pic of those food...its damn delicious lor!!!...then after we ate..jp and caroli started to have a scientific and religious debate with each other..lol..abt how human started...jp is the religious side one..then caroli is the sci side one..she started saying things like nono human is not cre8ted liddat..blabla..its the evolution of gorrilla and stuff liddat..and the debate goes on and on..while me,wei juan and wei zheng listen....bla bla bla...........
She left her message at
6:10 AM
Friday, March 30, 2007
ok...nexttt....coz phyllis gtg home to take care of her sis..we quickly pack up the thinngs and left wei juan's house then when we at downstairs le..we quickly took 2 photo b4 phyllis leave...and ta dah!!!this is the twooo..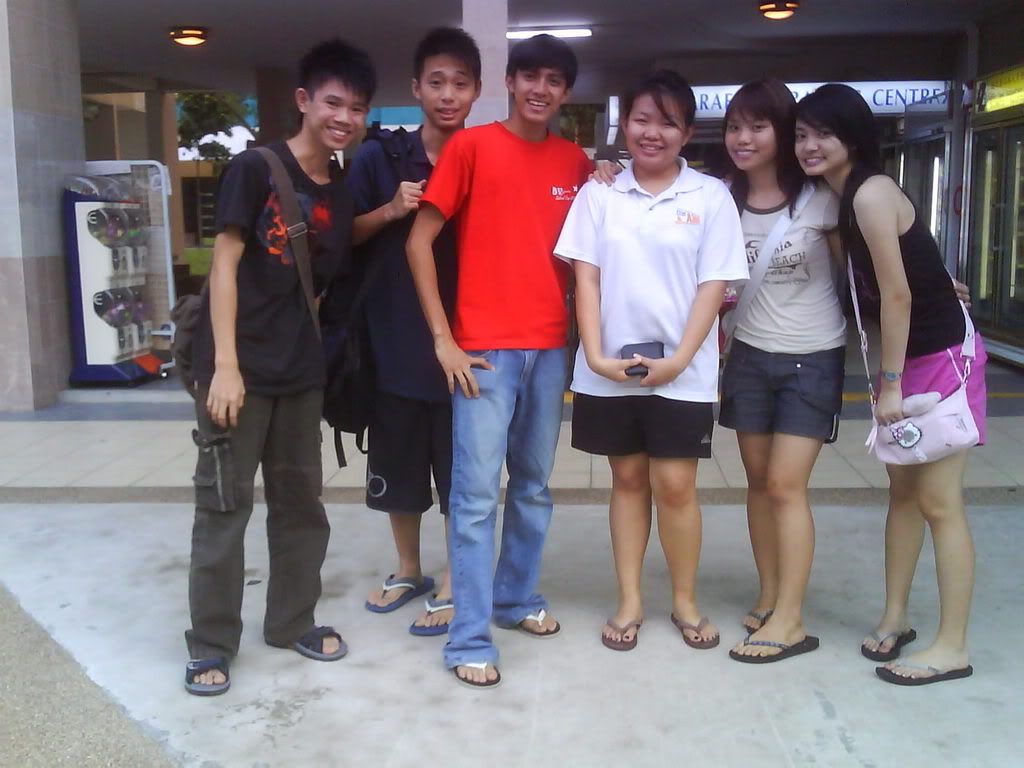 She left her message at
9:34 AM
wahahah im sooooooooooooooo damn happy today laaa..i met up wif 5 of my pri sch friend then we went wei juan's house..at first wanted to watch movie de..in the end play monopoly..and i got a nickname lor..wei juan called me da lu mei..coz i was trying to cheat her money..and wanting discount..lol!!then there was a period of time we all kept laughing laughing laughing..and phyllis laugh until wanna cry sia..lol..hmm actually most of the time we are laughing..there was once when caroli was crying after i took the money from free parking severe time..she cannot take it!!lol..her moneyyyyyy....wahhahaha..wait show evidence...
She left her message at
9:15 AM
Thursday, March 29, 2007
Siannn my $$$ is running out le....so im now working for my parents again..hai so sian de.....there not teenager de..all auntie uncle..wa kaoz...talk to them very bored de..then got this one auntie hor..i dunneo la..shes not bad la..but dunnoe y i just dun quite like her..she like very kaypo all tat one..then later i talk to some1 hor..she listne listen then later suddenly cut in!aiyoo..but wadever la..not as if i talk some very secretive things..hmm...this is my better friend there..she very funny de..friendly one..shes sort of one of my other side de relative..
She left her message at
7:32 AM
Tuesday, March 27, 2007
Yes man!!!i finally got rid of my damn thick hair straight after i go home..so happy lor!!feel so liang now...i love to cut hair short short good ma...if not long long keep poking my eye..then later very hot also lehzz..lol..so hor conclusion..cut hair is good..lol..and bu hao yi si worr...zhi lian yi xia..lol...
She left her message at
7:34 AM
Monday, March 26, 2007
Wa..this morning i wake up sian sian go check on singnet website as my contract wif them is almost up..and i found out can have free wireless service wor until 2009?!siaa la..lol i think a lot ppl noe le issit..i very shua ku sia..but nvm late noe better then nvr noe..hmmm now gona go check when i can change to it..
She left her message at
5:58 PM
Yeah mannnnnn...my dunnoe how many times creating and deleting blog liao..so sian lor now..so hor.i've decided to make a bloggg..hope this time i wont sian sian go delete again...ok..so stay tune for more post..although i think will be sian la..lol..
She left her message at
9:02 AM