Wednesday, April 30, 2008
let see...umm the past week was okay veyr fine...umm i also went to join a cca with yining...umm dunoe if will get in ma..anyway yar..umm the training is on sat..and mon i think..so io guess its pretty okay..my parents also agreed tat as long as it remain at sat and mon then it'll be fine..so..yar..tats abt cca..and for studies..umm i guess so far soo gd...i can understand the lecture and everything so far...and i totally love my CDS!!...some human enviroment planning..is abt interior design lai de...and now we learing abt the building all tat..like wad makes up a buildng..and stuff..then we were told define wads space..by drawing and writing a lil notes..then it was like quite tough..wads space sia!!..lol..so gona find out a bit and tats abt all!!>.going out wif sec sch friend later!!..hope everyone have a nice holiday!!
She left her message at
9:24 PM
Monday, April 21, 2008
heres another update!!..few days ago just went to marche wif sia and yining!!...at vivooo..yining working at build a bear....so sia and i walk a bit at vivo and waited for her to finish her work then we went marche!!!...lol..and after tat went to this bar..called the woods restaurant bar..coz sia's friend workng there..and we got a free drinks..lol....then sitted there and chatted till 10 liddat then go home...
first stop calamari ringgggg
this is the crepe!..
desert
more desert
our drinks..
some other food..salad and rosti!
She left her message at
7:39 AM
Sunday, April 20, 2008
okay heres another update before sch starts tml!!...dunoe how i should feel but anyway...tat time went to eat wif the managers and everyone else working in the morning shift to steamboat located at chinatown..it was a crazy night!!..lol..adonis drank like 4 5 glass of beer and faint le..lol!!...coz hes first time drinking ma..then everyone so worried abt him..lol!!..then like keep asking me must look after him hor..lol!!..coz hes like shouting for more beer more beer and hes face very red...lol!!..okay heres some photo!
joanne and me!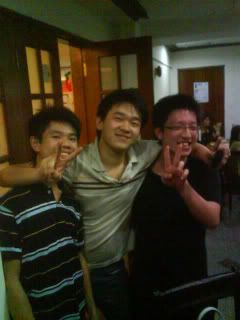 me,gao song and bambang
roselyn being forced to drink by our drunk manager(lu ping)
some sauce..those china girls teach us how to make de..veyr nice and smells gd!
roughly wad we ate..
crazy diana!..lol!
She left her message at
6:38 PM
Saturday, April 19, 2008
update update!~!!..hmm..let see.....oh yeah..during this holidays met up wif a lot of my friends catch up wif them..chatted a lot went out watch movie eat..play play playy..i met my primary sch friend few weeks ago..and had lotsa fun!!!..lol!!damn some of them i cant even recongizes!..soo funny la they all..just love going out wif themmm..!!...
She left her message at
7:38 PM
Saturday, April 12, 2008
HAPPY BIRTHDAY!!!!! to my one and only brother!!!!!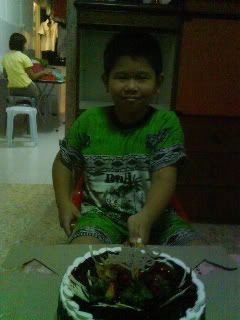 She left her message at
2:47 PM
Thursday, April 10, 2008
whewwwww...after not coming on9 for a few weeks i damn miss coming on9 sia!!....tat day my com a lil sot sot so i got fed up and spoil it myself by throwing it on the ground..then..i swear tat ill definately not fix tat com!...coz im just so fed up wif it over th years le...so i got my neighbour at tenth floor to help me..coz he work in a com company..then he like..say the cpu inside some things still useful la..bla bla..then he ask me if wanna buy new com so i said okay lo..as th price reaonsable..and i have to fork out 300dollar sia..then my dad give the rest...then i got it fix up ytd...so yar..nth much la..but liddat lo..okay needa update a few things tat happend past few weeks
She left her message at
1:00 AM