Wednesday, July 23, 2008
ytd went downstair to play badminton wif my mum..lol..she was actually playing wif my bro then she ask me go find her after sch...so i went lo..then she say wanan challenge meee...lol she say let me see her kung fu...so we palyed and played until ard 8 plus then go home...lol my ma dun see her liddat sia!..she got strength de cann...can smash somemoreeee...not bad not bad...then she say after ytd's palying she suddenly feel lik training to play badminton..and tat makes her think of her past..lol so dramaaaa....then she say every sun wanan go play..hmmm but wonder if she will sia...dunoe how many years le..say sunday wanan go resirvoir jog and buy runninjg shoe..tilll now..still havenn..lol!!
She left her message at
2:33 AM
Monday, July 21, 2008
whewwwwwwwww im finally done wif my cds!!...goodness buuilding a house model wif styrofoam isnt easy man!!!..needa measure and stuff..omggg...neeed to include the element and everything we learn..the chair height table...everything!!!...spend a lotsa house doing man..finally its doneeeeeeeeeeeeeeeeeeeeeeee................!!!!! but a lil cui la..the model..lol!!..
She left her message at
8:01 AM
Saturday, July 19, 2008
okayy this post is inspired from yining's blog!...loll national 3 years ago!!!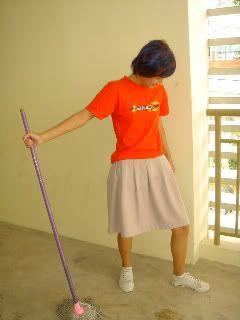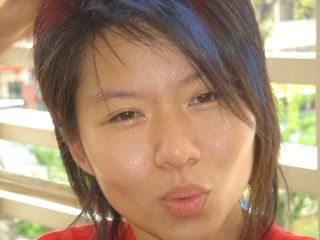 i've got one more is linda dancing to ran shoa ba aka lan shao ba...but i dunoe how to uploadd..any help plssssssss
She left her message at
6:58 AM
Today i went kayaking wif my sec schh frienddd...for 1 star courseee then lucky me and sia is passion memeber then somehow we manage to jus tpay 50 for the membership and also for the courseeeeeeeeeeee..while the rest pay 65...was damn fun la the course learn to capsize and stufff....best part is seeing qing ling's cartoon motion!!...lol unexplainable...see it for yourselffff...and yining!!! nextr time join us for kayak!!!...u like take 1 star le nvr use it de lehz...and andn after 1 star we go take 2 star~!!!!!...weee heeeee thenn can go expenditure!!....oh yar and and and kok yong can drive le!!!!!...he drove us home and around today for food at thai expresss..shiok sia..got a friend who can drive...wait wait then i learn le also can....soon!!!!.....
She left her message at
6:50 AM
Saturday, July 12, 2008
Hope u rest in peace my dear cousin..Ytd my cousin just passed away at the age of 30..it was a shocking news..coz the doc say hes suppose to have 2 more weeks to live..but it turned out tat he din make it..i hope my auntie and other fmaily member will kan kai dian...
She left her message at
11:07 PM
Friday, July 11, 2008
ytd was a gre8 and tiring day!!..longggggggggggggggg dayy..from morning till ard 11.30pm liddat...sch ended at 4 for me i went home rested a while and then went out to celebrate tekai's birthday!!..haha happy 18 birthday!!!..so we wanted to go this place call bice bistro recommended by ah sia's friend at clark quay..but too ex le..so we change change change to waraku...a jap restaurant ah i think...umm yar..food there was okay for me...cream base udon wasn't tooo sick to eat after some time..not like the usual...so okay...heres some photo!
Initially we tricked him into thinking tats hes cake..so heres hes face after
knowing...ahaha!!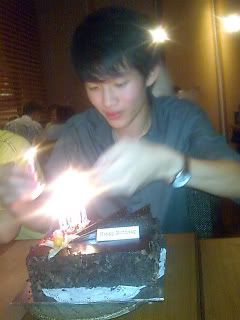 the real cake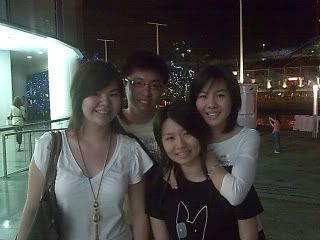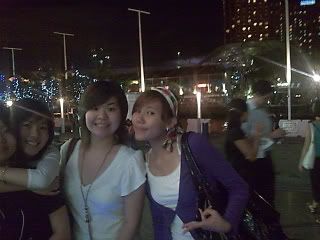 ENd of the dayy..and tekai owe us a forfiet!!
She left her message at
7:58 AM
Tuesday, July 01, 2008
busy busyy..recently like sooo much things to do..needa revise for my math and stuff..coz cant really catch up wif the stupid trigo thingy..and now differentiation!~..haiyoo..but among the busy time i still find al il time to hang out wif my friend...sec sch friend..and we went old airport road eat got a lot more food de..but nvr take the photo..hungry so just eat!!...and white dog cafe..at vivo..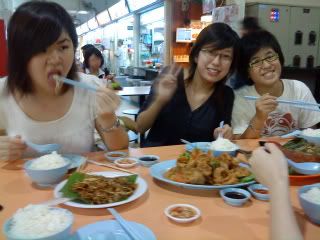 ah sia is too hungry to post le..EAT!!
]
this is at white dog cafe
She left her message at
6:06 AM