Wednesday, April 25, 2007
wa laoo..sian siaa...ok b4 tat..today me and yining went cca fair..saw qing..zhi min..kang jie..etc a lot ppl la..then yining and i signed up rock climbing...cannoeing...and i signed up tennis too..then going for the trials...hope can go in ba..then we went to TM wa sehh soo long nvr go le sia..not like last time..then walk walk after tat eat lor...then the sian part is when i went home...i happily bathed and start trying to do my engineering math 1 tutorial..then sian la!!!!i dunnoe how to do sia...i did but not sure correct or not!!siann..then i ask debbie..she say oh she did le..wa sehh...sian so clever..if only i learned A math in sec sch sia..y am i in the worse class in sec schhh siannnn...nvm not too late..ill work hard..wahahha!!!cheersssssssss
She left her message at
6:47 AM
Monday, April 23, 2007
Yeahhhhh.....today is the first day of school!!!...everything was fine except the math la..siann i hate math lor..math is such a pain in the asssssss...but nvm illl overcome it i hopee...yeahh my class so cool lor..we go as a class one...to eat..go for class..collect notes...rockz mannn...wahahahah...
She left her message at
5:57 AM
Thursday, April 19, 2007
wooooo...orientation was funnn i realise tat if i be more open and intro myself to ppl they will do the same...and later will start talking...somemore the game is group group game must work together..so we got to interact no matter wad...although the game is stupid...but when everyone join in the stupidity it will be equal to damn fun!!!...my class is very quiet one..i think its the quiestest among all the chem engine..but tat does'nt mean we no class spirit or wad..coz we have!!we won a few games together and had fun!!!..i love it espeicailly the chicky dance during the camp fire..whr eveyrone will dance and later all my class ppl will put thier hands on each other shoulder game go frontttt and backk fronttt and back.k...Yeah mann zhong zhi i love doing stupid and crazy things...fan zhen everyone doing so lets all be crazy and stupid!!!!!!!yeahh mannn......
She left her message at
12:33 AM
Sunday, April 15, 2007
tat day i off ma..then just nice yenly and linda wanan go lavander do sth..then i also go lor...coz i wanna extend my passport..then just nice was chatting wif tekai on the internet..then since we 4 years friend le nvr ask him out b4..so this time i ask him out..then later we went shopping...at first it was only yenly and linda..then i join in..followed by tekai and then sarah and lastly hong giapp...lol..then we went vivo to watch the reaping at 4.30..kinda scary..i keep kena frighten but in the end u find the story not scary..just liddat lor...then we go walk walk..then go the old old hawker at vivo to eat..then we took some pictures and saw two les quarrelingg..but i guess its ok..anywayy heres the photo..ok 2 laa..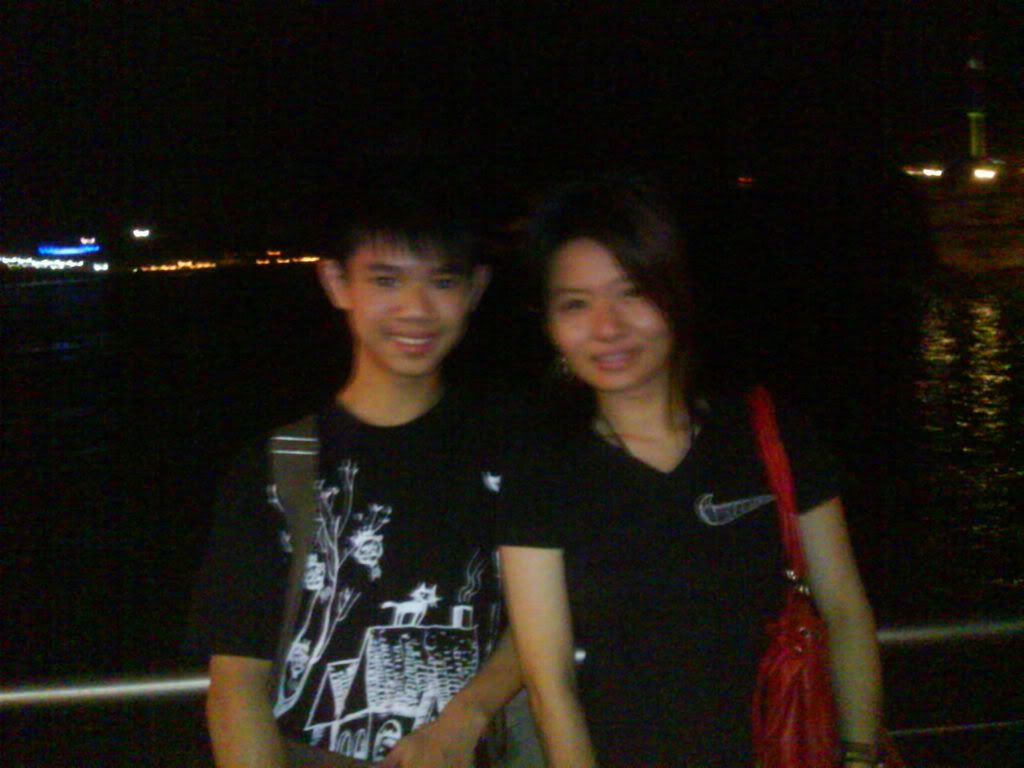 She left her message at
9:31 AM
Saturday, April 14, 2007
SIANN....today sucks lor...wa kaoz..starting of the day i was happily going to work..on my way there..as i was going down my home stairs..i almost slip and fall...ok..tats the first bad omen to tell me the day's gona suckzzz..then on the way i told myself ok..today im gona have a bad day..then while walking towards the interchange..i was almost knocked down by a car which suddenly turn..ok..second bad omen..then then..i cross path wif a black cat..which according to wad i've read b4..crossing path wif black cat is bad luck..siannn..is this superstitious or wad?!?wa kaoz..then finally i reach the workplace..then then things start to happen..the bigger ppl there were like so unreasonable la..4get it dun wanan go into detail..zhong zhi today suckz!!!
She left her message at
8:15 AM
Wednesday, April 11, 2007
today is my bro's birthday!!!!wanan wish him happy birthdayy and soooooo sorry tat i cant celebrate wif u..coz i have to work till night....okok happy birthday again!!!!!u are going to be 10 year old....
She left her message at
9:32 PM
Saturday, April 07, 2007
ok...then after we left...we head towards the esplanade from marina bay..and lol!!!this is the stupid part lor..we wanted to walk to esplande one..then as we walk the road is very quiet and nobody except us walking..then its damn dark and everything la..then this ah sia horrr...haiyo!!!got motobike also scare...from far she keep asking me..wads tat ah wads tat ah..then i say dun scare me la!!then she scream....coz shes scare..then evertime i wanan talk she scream..lol!!yi shen yi gui..haiyooo.anyway skip skip skip...in the end we only found out tat we walk back to the same place...in a BIG circle!!siannn..walk like ard 1 hour plus..then we took mrt home..lol!!..but nice experience lehzz..u see in tv always like..wa so stupid so funny...then in real life also can happen one..so funn...anywayy yining dun be sad hor..coz lai ri fang chang..still got chance to meet up de!!..fen zhen at work u also everyday see me ma..wahahahha..bo bian whether u like it or not..lol!!
She left her message at
8:38 AM
wahahah today we went to eat steamboat....wif my sec sch friend..after working in the morning i went to meet them...then we went marina bay there...take 400 and stop infront of the arcade..then zm and kang jie went in to play..after they played..ard 6 liddat qing they all came..then we went to play pool till reaching 7..coz the pool there ex leh!!!! 1 h 8.50....so we see see 1 h le..fast fast stop..then we went down and book a table..after we paid..me and linda started to rush there and take food...in the end...linda and i ate the most...lol..we ate like ard 2 plus-3 h siaaaa...lol..then i still keep eating..coz like eat talk eat talk then wont feel full...lol..so i kept eating..then they pulll me away le..theres a photo of the food me and linda ate..
She left her message at
8:36 AM
Sunday, April 01, 2007
then then then.....we went to playground and play...lol...not childish ok!!!even childish also nvm..coz we are pri sch friend ma..so trying to go back last time liddat...actually we din really play la..we only sit at the spin spin spin thing..then wei juan fall down!!LOL!!!aiyahh should have pai a video of it...but acccording to jp..he said tat she fall down very funny de...slow motion one..like oh..im falling..okok..first..fall down of the spin spin spin thing..then next..sit on floor and aiyahhh..i fell...lol!!oh yar!!!i rmbed..wei zheng also fell down..lol..coz of me..he and jp talking then i go spin the thing..wahahhah..then he flew out..lol...oh yar..heres some pic..one is jp sleeping on the spin spin thing..with is leg and hand wide open..then another one is all of us sleeping on the spin spin thing..then take a photo from upstairs..and got one isssss....jp and caroli.........abt the pic...guess yourself....lol!!
She left her message at
6:46 PM