Sunday, August 31, 2008
yeah yeah!..monday monday but no blue!...start of the first day of holiday and its gre8! going to my pri sch friend's birthday party..chalet..we're meeting at 3.30..so b4 tat i maange to find some things to do..buy newspaper and continue finding job..might be gonig for itnerview tml for some o brien sandwich bar or sth la..pay isnt really gre8 but at least they have branch located nearby and meal is provided..so yar...and and and..this few days i found a gre8 cartoon tat i rmb watching last time!!...some chacha thingy!!..lol soo damn cute la..and a lil lame..but still i rmb watching it last time..lol!..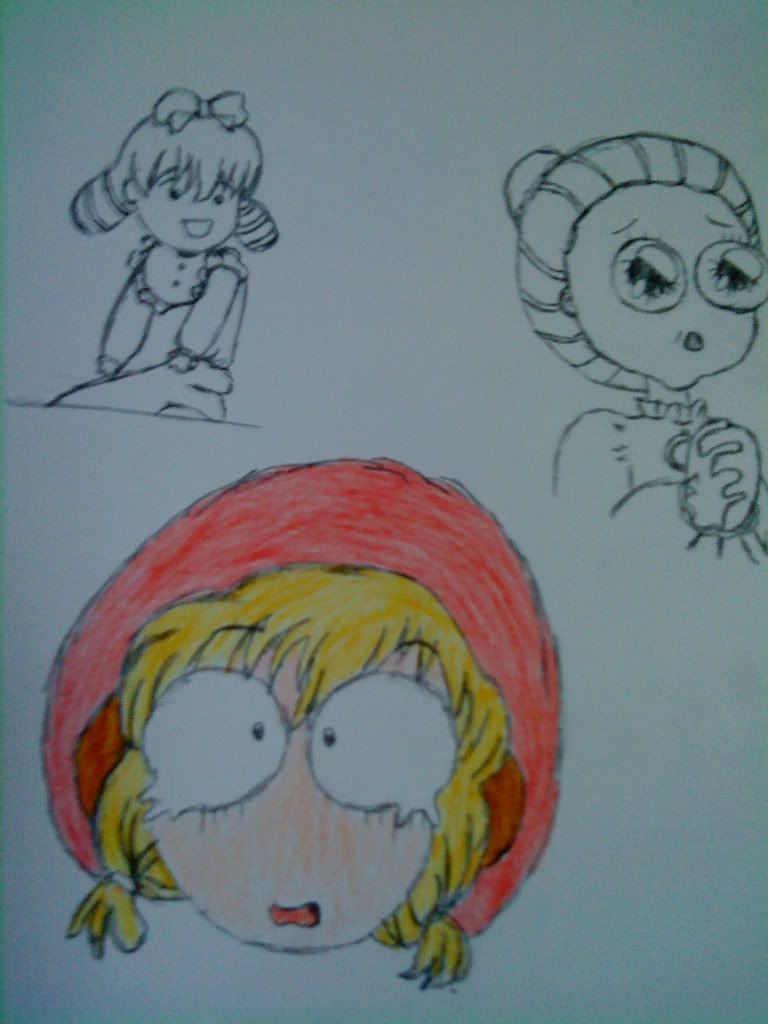 and heres the character tat i love the most so i drew them out....lol!..the seravy's doll..elizeberth..and the principal..lol its damn cute..the eye forever liddat de..lol!..and main character chachaaaa
She left her message at
10:51 PM
hehhe finally change my blogskin again..decided to change to something cuter..instead of always bloody one...umm so lets see..i noe im a lil slow but..EXAMS OVER!!..lol!...umm and yar...finding some new job to work to gain new exp..and once i find it..gona start chionging again!!..nothing's better then working and working...so let see..for today i went to pay some bills and on the way bought a few stuff which i like to eat!..and haha..happy happy!!...see buy see buy..eat eat eat!..then slp..like a pig
k some rubbish i bought..torbulene or sth la..the chocolate...i like this packet de..it cost onyl lik 4.30 eh..and u can eat until quite shoik..is in minin packet de..and each packet got 3 triangle inside..
umm then the potato chip...chilli one...
then walked pass the market and saw my fave 'OH CHUT' umm always cant rmb the english name for it..but yar..damn nice..and it cost only 1 dollar..hehee..
then bough newspaper to read and find job..
so thats abt for today..
She left her message at
6:50 AM
Tuesday, August 26, 2008
unexpected surprise!!...today after studying took 196 home wif jing yi! and i saw my pri sch friend regina!..lol..its kinda weird..coz she live in the same block as me..and i only get to like bump into her twice a year!..lol..but anyhow..its gre8 to walk home together wif her..and chatting on the way..lol cant believe she rmb the incident when we were in pri 3..she said i pang seh her because of some ice pack and leave her to go shen song by herself..lol!!..k then i reach home..and my mum left some warm food for me!!..soup and hot rice..and fried fish!...hehe..life is gre8 just liddat..simple!..:):)!!!!! k ppl who are having exam this whole freaking week..plsss jia you!! and good luck!!!!!!!!!!!
She left her message at
9:02 AM
Saturday, August 23, 2008
drawing 2!..lol..today's obession is on amy winehouse..lol!! me and jing yi have our own interpretation of amy winehouse..so heress some of it!...lol!!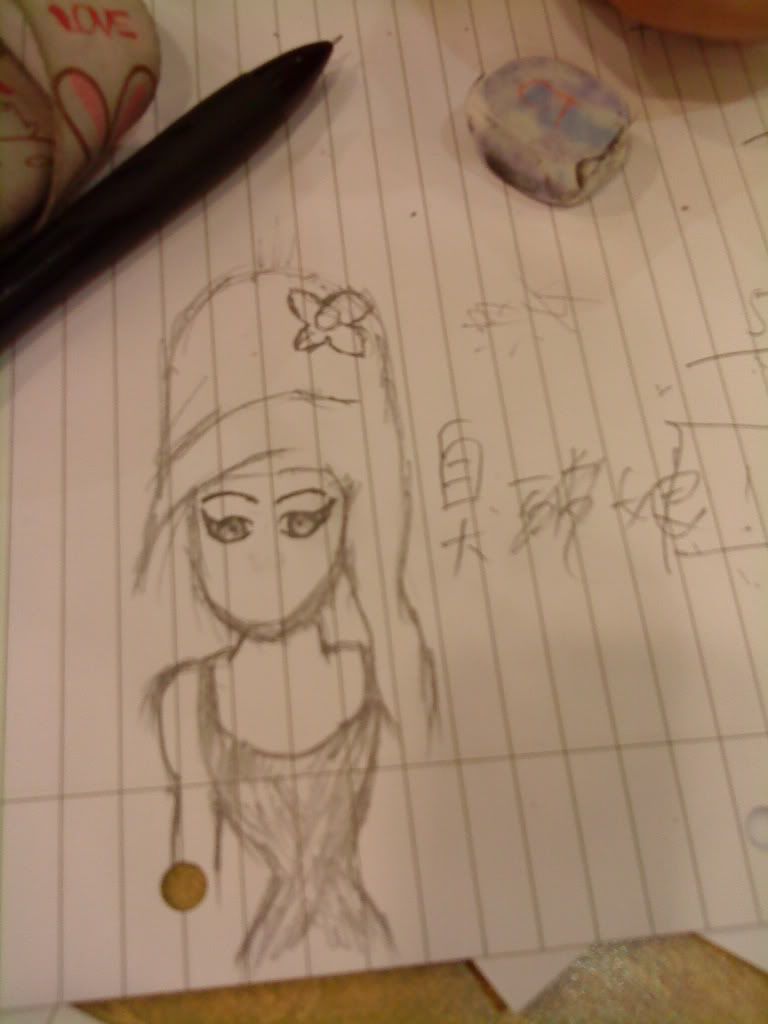 okay my initial one..w/o mouth
added a mouth...
some editing from jing yi...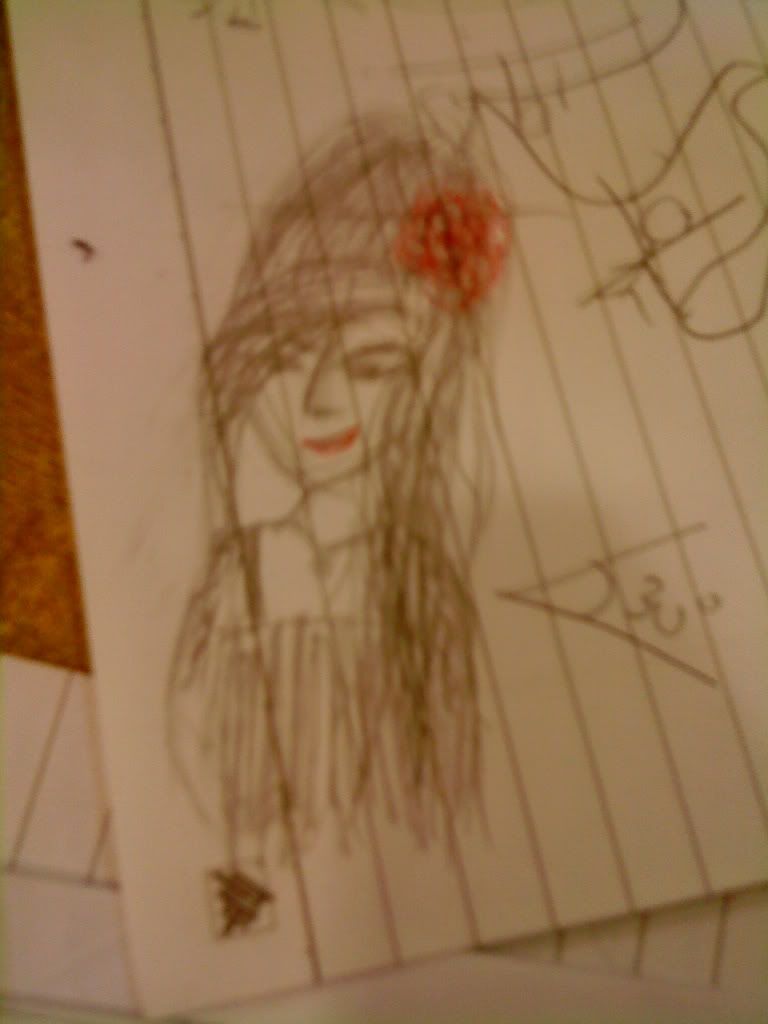 and herss!..i think adding some red makes it look nicer!
She left her message at
9:51 AM
Thursday, August 21, 2008
okay..today studied UO..been studyign tat for the past 3 afternoon..and argh..can say finally i got the hang of it..and maange to do the past year paper and most of tutorial 5 onwards..so yar..been quite okay for me..now have to worry abt math...hmm..k niway..heres today's destress!!...actually theres a modification of amy but i find it toooooo disturbing to see so i threw it..so heres some pic we edited..a few stroke from each of us andd.......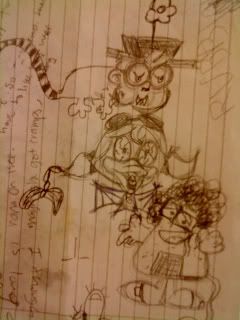 look carefully..they are character of a fast food restaurant..lol!!!!!!
theres some abstraction done it it..but i think i 4got to take pic..lol!
She left her message at
8:51 AM
Wednesday, August 20, 2008
Styudyy studdyy...ggeezz tats like wad this whole freaking week is abt..study eat slp study eat slp..lol..calculating memorising..justt arghhh..but luckily theres a crazy bunch of ppl ard..who do funny things like...this..
i was only putting my leg on the chair and in a swift moment she drew tat on my toe before i can even react..lol!
and shes proud of it...ahahah
kk more rubbish to come on the way...4 more days! to exam...
She left her message at
8:11 PM
Monday, August 18, 2008
Finally have some breathing space to post this post tats longggg overdueeee......lol..during national day..we hang out at ah sia's house isstead of goingg to esplanade...had some food cooked by her parents..after tat..drink at night, played cards and play WII!!..lol..ahahah..damn funnn cann..lol..
this cute lil girl singing national day anthem..
and this girl...doesnt seems to see the words on the tv screen..lol
finally saw..and start palying!..lol
She left her message at
3:14 AM
Monday, August 11, 2008
a messy messy outinggg..lol..umm meet up wif my sec sch friend the other day..and its quite a hard meet up coz evveryone is busy and the time tat each of them can meet up is different..so in the end a few meet up first then a few then later a few..lol..so umm the first few of us who meet up went walkign ard orchard after tat walk to douby ghout and eat Tao..zhi min intro de..lol.and my godd..itsss sooo ex can..waa eveyrone emo after eating sia.lol!...but the food there is nt bad nt baddddd......service is also quite gddd...then after eating yining and sia meet up wif us and we go drinking a bit agian..slack outside the 7 eleven at douby ghout..lol..tekai was the first to drunk after a bit..hes blood circulation dman good can..drink a bit whole face red le..lol!! then yining is a bit also..jing yi drank some then quitted le..lol..ah sia..worse of all! eat tau huey and drink!! iin the end vomitted dmann badly..but okay le..lol then after tat scare liaoo..me i was still okay la..just damnn tired..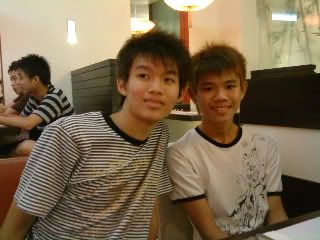 appetiseerrrr
also part of appetiser
soup and drink
my main dish...is fish call..snapple i think..yar..
She left her message at
10:15 AM
Saturday, August 09, 2008
giraffeee....went to giraffee to eat wif ah sia...on sunday after fetching the lil girl...lolll....then at first we din plan to eat de...but after walking down to take the mrt..i suddenly needed the toilet urgently..lol so we went up and out to find toilet..after tat ah sia suggest we go eat dinner..so okay lo..went giraffee to eat..hmmm the food there is edible la..but i wont suggest go there eat..its quite ex! and the food is like soso only..the only good thing abt it is tat the food is nicely design tats all..yar..so the two tat i ordered..spagatti and tiramisu..
She left her message at
9:30 PM
Tuesday, August 05, 2008
Part 2...second part of our primary sch belated birthday celebration....we were at vivo highest lvl..and playing cards...drinking..doing crazy stuff..
card gameee
i wasn't looking at anything!!...WASN'T!!
Sooo tired le....finish the wholee vodka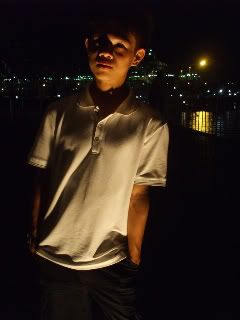 She left her message at
3:58 AM
okay thiss picture deserve a wholeee post by itself..lol..y? coz its BEDAI!!!...omggg my fave food!!!...and thx to my uncle who brough it from indonesia..soo long since ive eaten it i've eaten those in the hawker centre one but dun like it as much..does'nt smell as gd....frying it wif hei bi hiam(shrimp)i think...orrr u can eat it raw..but i dun dare do it..not like my mum..the moment she sees it..she took one and pop it into her mouth...secs later..my dad ran out of the room and complaint tat the smell is unbearable...lol!..kk heres the food!!...
She left her message at
3:41 AM
Saturday, August 02, 2008
was watching the tv show abt the origin of different dilect's grp...the first few episode was on teochew on..then kym ng is the host..haha she sooo cute sia..bubblyy..then was watching it wif my parents and suddenly my dad was talking abt hes past..then talk about my grandpa who pass away when i was 3 year old and stufff...hmm although i dun really have much feeling abt the past but i kinda feel a lil sad or sth tat i din really get to noe my grandpa..who seems to be quite an interesting person from my dad's storyy....
She left her message at
7:07 AM
Friday, August 01, 2008
belated birthday celebration!....had a birthday celebration wif my pri sch friend( wei juan, phyllis, hock ann, john paul, wei zheng) last sat...after our kayaking session..hehehe...went vivo to have dinner wif them..and drink after tat....first we went asian kitchen to have our dinner...and chatted a bit while watiing for wei zheng to arrive... okay so heres some photo of the food..and theres still some other photo of us while drinking..lol...phy was as usual drunk again.........ahahah...
She left her message at
7:12 PM